All cancer patients in Norway who no longer benefit from standard treatment has the right to be considered for inclusion into a clinical trial. As part of this, patients will be offered comprehensive genomic profiling of their tumor. The regional health authorities in Norway decided in 2020 to establish an infrastructure for precision diagnostics (InPreD) to offer comprehensive genomic profiling as part of the Norwegian health care services.
Comprehensive genomic profiling of cancer patients is complex, and it takes time to scale the service. We are therefore very happy that the cancer diagnostic team at Haukeland University Hospital (HUS) now is ready to start. This will increase the capacity considerably. Initially, they will start analyzing samples from four patients a week. This will be in addition to the samples analyzed by InPreD-OUS and InPreD-AHUS.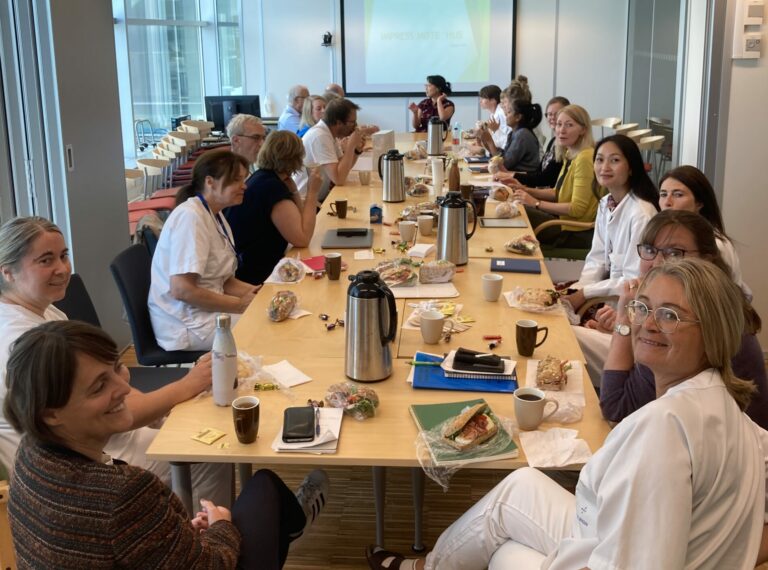 Team lunch for InPreD-HUS. Comprehensive gene profiling of cancer tissue involves a several professions and procedures. The requisition must be processed, tissue received, DNA and RNA extracted and sequenced and the results must be interpreted and presented to the national molecular tumor board.
Plans for further scaling
InPreD has two strategies to increase capacity for comprehensive molecular diagnostics. The first is to expand the number of hospitals that carry out the analyzes and the second is to automate and streamline more of the processes, so that each hospital can analyze more samples. The plan is to gradually increase capacity through 2022 and 2023 so that all patients who need it are offered the analyses.